« A De La Renta Fairy Tale | Home | Back to School: Dinosaur Backpack »
What's that fabric: Mistress of the Art of Death
August 30, 2013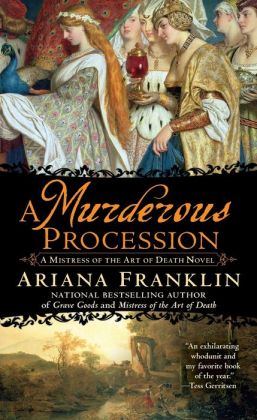 I stumbled across the Mistress of the Art of Death Series when I was visiting my in-laws who live by an overstock/library outlet bookstore. It was hardback books as far the eye can see. There are so many books that it is almost overwhelming. I created a system that involves 2 basic questions: Does it take place in modern day and is the cover pretty. If the answer to questions one is no, it goes in the basket. If the answer to number two is yes, it goes in the basket. The Mistress of the Art of Death by Ariana Franklin passed my tests and it was love from the first read and I rushed back to collect all four books. 
I am capitivated by all the interesting fabric references in this book series namely what Adelia wears as well as a few of the other characters. 
Homespun: In Medieval England there was no off the rack clothing; it was all hand made from the lowest of peasants to the richest barons. As Adelia chose to live most of her time in the Moors serving as a village doctor she would not have spun and made her own clothing but it would have been done for her, either by her patients as payment or by her housekeeper/ companian, Gyltha. Homespun was both wool and linen as either were prevelant in England. Flax grew all over europe and England and was cut. The plant fibers must be loosened either by long soaking in pools or left out to decompose in the fields. Finally the fibers are sorted and processed before they can be spun into yarns and woven. Wool was sheared at most twice a year and spun into strands that were then knitted into fabric. That fabric could be made fine and smooth for the summer months or thick for winter.
Boiled Wool: For colder and wetter climates the wool fabric would then boiled with some lye soap. The suds and agiatation would create a type of felted wool which would be 20-50% smalled but more dense with some ability to resist water, snow and wind. 
While linen was more labor intensive than wool it was also more abundant. Both could be processed during the summer but then left to be spun and woven during the slower, winter months. 
Leave me a comment with your favorite books with mysteries fabric references that you would love to know more about. I am always looking for a new good book. 
No TrackBacks
TrackBack URL: https://blog.fabric.com/cgi-bin/mt5/mt-tb.cgi/4866