« Jalie 2806 Scoop Neck T-shirt | Home | Cleaning your machine »
How to Read Knitting Charts
February 13, 2013
The above chart is from the pattern: Gams. You can find the complete pattern in
Knitty
for free download.
After you have been knitting for a while you might consider branching out from written patterns to charted patterns. At first it might seem like a new language that was deciphered using the Rosetta Stone but it is not that difficult and a real time saver in the end. Charts can be easier to read than written directions because they don't have language to get in the way. Plus they save paper which is a great thing when travelling with your knitting or if you are printing out a pattern. A smaller pattern means you can also use a magnetic chart keeper to help you out.
Before you begin reading your pattern look for a legend to help you learn common symbols for the techniques used in your pattern. A cable or lace pattern legend will feature many symbols while a color chart legend will include all of the colors needed for that pattern (you can opt for your own color choices) and a textural chart legend will outline where to change from knit stitch to purl stitch.
Charts are read from bottom to top and from right to left when working on the right side and from left to right when working on the wrong side. This holds true unless it is otherwise noted that all wrong side rows are worked a certain way everytime (i.e all wrong side rows are purled) or all wrong side rows are worked as the right side rows or you are kntting in the round. Remember to read it in the same direction that you are working your stitches. Each space on your chart represents a stitch. If you are knitting in the round or your pattern stipulates how to handle wrong side rows so they are not included in the chart then every row on the chart will be read right to left and represents a rightside row.
There are many tools you can use to help you read your chart one line at a time. You can use a highlighter to color completed lines. A magnetic chart keeper helps to keep your chart in place as well as having moveable magnetic bars that can allow you to only see the line you are working. When working from a chart in a book I recommend making a copy of the chart which you can mark up. This is also a smart tip for any beginners to chart reading; make a few copies so you can mark them up if it helps you learn.
Textual Pattern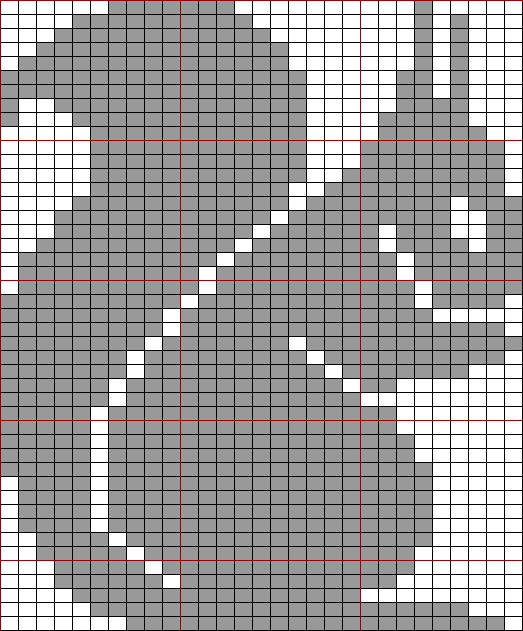 Featured on Knitting on the Net
Color Chart


Featured on Dropped a Stitch
Lace Chart with Legend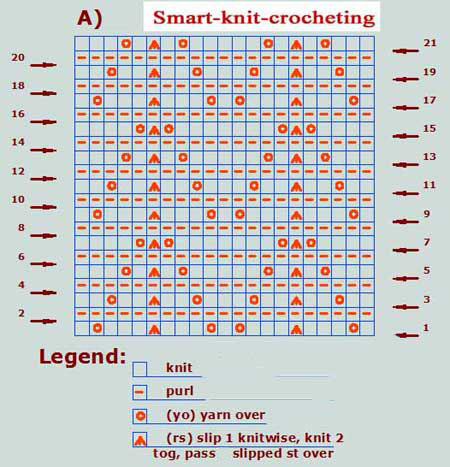 Featured on Knitting and Crocheting Smart
No TrackBacks
TrackBack URL: https://blog.fabric.com/cgi-bin/mt5/mt-tb.cgi/4780