« Stay Warm for Autumn Fun | Home | Academy Jacket Part 2: Almost Done »
Quick Halloween Costumes
September 17, 2012
If last minute Halloween Costumes are your style or perhaps you prefer something simple but still show stopping then my list of favorite Quick Halloween Costumes is perfect for you. I prefer to put some work into my halloween costumes but this year I will have a newborn and some extra baby weight to drop so putting in the extra work for a custom costume isn't on the books. I am looking for wow without alot of time commitment or fittings. Check out my favorites below:
Adults
From Martha Stewart we have the
Gray Lady
, a famous medieval ghost said to haunt London and according to Martha she is a star-crossed bride left at the alter. I love the
ethereal
look of the lace and tulle but also the forgiving fit of both fabrics and the cinched ribbon waist. You can find the costume instructions
here
and some
Grey Lace
,
Ribbon
and
Tulle
at Fabric.com
Ombre Ghost Costume: You can take a simple ghost costume to the next level by using my
Ombre Dye Technique
on a huge piece of white
broadcloth
. Go spooky with black ombre, funky with pink or purple, deathly with red ombre or peaceful with blue.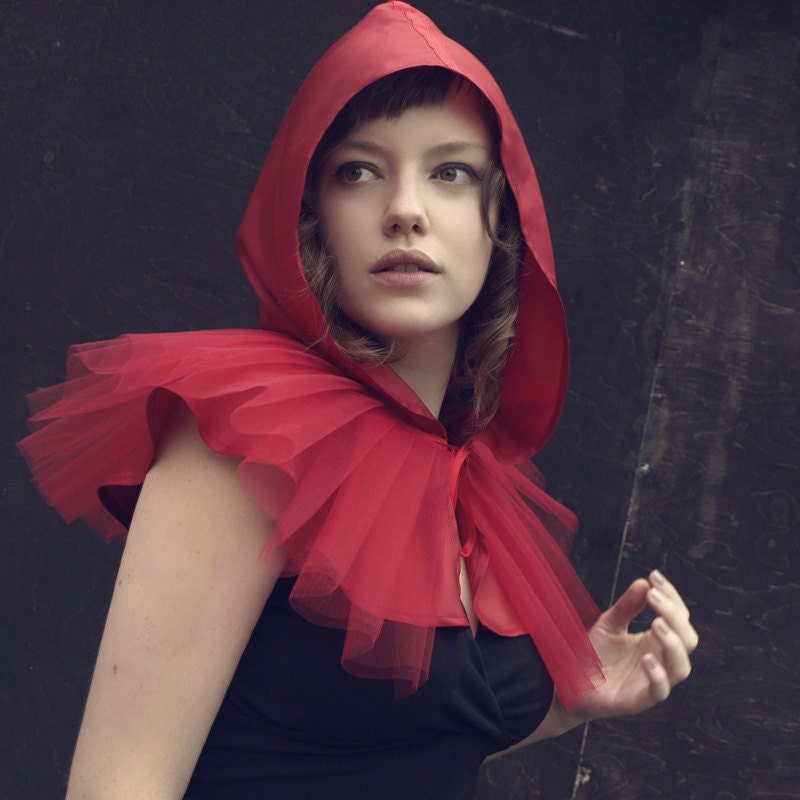 Spice up the typical Red Riding Hood costume by creating a capelet instead. Steal the hood pattern from your favorite sweatshirt or jacket pattern or find a free hood pattern
here
. Sew your hood from red
Satin
or
Silk
for the glam look portraited by the model in the photograph. Pair it with a circle capelet layered with Satin and Tulle. To create the capelet use our
HotPatterns Witch's Capelet Free Pattern Download
but add a tulle layer on top.
Kids
Help your kids make their own super hero costume by first whipping up a pair of solid colored tshirt and pants combo using a Kwik Sew tshirt and Oliver + S knit pants pattern. Next, follow Martha Stewart's basic costume instructions on turning this basic emsemble into a superhero's bread & butter!
The creative types over at Spoonful.com have a huge selection of kids costumes both quick and fun. I love the Princess Fairy Costume. My little one isn't into princesses but she has plenty of pals who are. Their moms are always asking for great ideas to create their own instead of buying the plain or low quality big box store versions. I would gladly recommend this adaptation as well as showing them Fabric.com's amazing Tulle selection.
For this lovely Flower Costume from Parenting.com all you really need is some great felt. Our Rainbow CraftFelt is a green fabric (as in good for the environment) that you can feel good about your kid wearing and playing with until they outgrow the costume. This pattern uses found and recycled articles from your kid's wardrobe and makes them floral with huge felt petals. It looks like a lot of fun that older siblings can help out with!
No TrackBacks
TrackBack URL: https://blog.fabric.com/cgi-bin/mt5/mt-tb.cgi/4719