« Love is in the Air | Home | Quick Tips for Sewing With Minky »
The Fabric Mavericks Says... Curiosity did not kill the cat
February 12, 2008
The Fabric Maverick is excited! I have been prowling around the warehouse, hanging out with the Receiving guys to find out what's new. I have been peeking in the Merchandising department to see what they are imaging. Everybody is working overtime to get new products to you. I am happy to announce the addition of craft books to our ever-growing line up of products. Karen, or as we call her the Great Fabric Merchant, has added these books to our President's Day sale. This is Karen's Valentine present to you. These are great books to add to your library. Most of us do not make drapes everyday. The Beginner's Guide to Window Treatments is a great reference book to keep. It will teach the rudimentary skills to make your treatment look professional. It even has how to make Roman Shades! Don't miss Donna Babylon's "More Splash Than Cash" book. It is a winner! For our quilting friends, we have added books with projects using jelly rolls. For the newbie, a jelly roll is a strip of fabric cut 2 ½ "wide by 42" long. It usually includes at least 1 strip of each fabric in the collection. For any quilter who has cut strips, this is a great time saver. I hate to admit it but I still get the wonky "V" in my strips sometimes. I have purchased the Silly Safari jelly rolls. I am going to put this book to the test. I know Victoria's daughter is having a baby soon. This will make a perfect baby quilt in record time. I cannot believe the prices on these books. You have to check it out.
Our Spring fabrics are starting to arrive. If you are thinking about Easter dresses for the little girls, check out the daisy gingham. I have seen this fabric made up into a sweet dress (Burda pattern 9885). We also have some great 28 wale corduroy. It is whisper light-perfect for Spring. The colors are Easter egg pastels.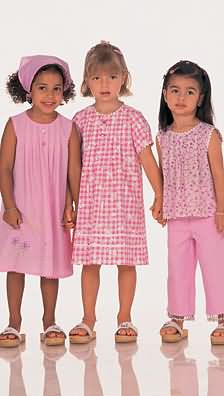 We have sretch denim and cotton sateen. It is a great time to try the Hot patterns.
Here is a sneak preview. For those friends asking for the Marcus Brothers "Wizard of Oz" collection, I believe I did spy some bolts in the warehouse. It is almost time for Prom Season. When I was lurking about in Merchandising, I saw some new fabrics that looked suspiciously like material for prom dresses. If I were you, I would start planning that special dress.
Warm up your sewing machines, there's some sewing to be done
No TrackBacks
TrackBack URL: https://blog.fabric.com/cgi-bin/mt5/mt-tb.cgi/3910