Notions: February 2013 Archives
The above chart is from the pattern: Gams. You can find the complete pattern in
Knitty
for free download.
After you have been knitting for a while you might consider branching out from written patterns to charted patterns. At first it might seem like a new language that was deciphered using the Rosetta Stone but it is not that difficult and a real time saver in the end. Charts can be easier to read than written directions because they don't have language to get in the way. Plus they save paper which is a great thing when travelling with your knitting or if you are printing out a pattern. A smaller pattern means you can also use a magnetic chart keeper to help you out.
Before you begin reading your pattern look for a legend to help you learn common symbols for the techniques used in your pattern. A cable or lace pattern legend will feature many symbols while a color chart legend will include all of the colors needed for that pattern (you can opt for your own color choices) and a textural chart legend will outline where to change from knit stitch to purl stitch.
Charts are read from bottom to top and from right to left when working on the right side and from left to right when working on the wrong side. This holds true unless it is otherwise noted that all wrong side rows are worked a certain way everytime (i.e all wrong side rows are purled) or all wrong side rows are worked as the right side rows or you are kntting in the round. Remember to read it in the same direction that you are working your stitches. Each space on your chart represents a stitch. If you are knitting in the round or your pattern stipulates how to handle wrong side rows so they are not included in the chart then every row on the chart will be read right to left and represents a rightside row.
There are many tools you can use to help you read your chart one line at a time. You can use a highlighter to color completed lines. A magnetic chart keeper helps to keep your chart in place as well as having moveable magnetic bars that can allow you to only see the line you are working. When working from a chart in a book I recommend making a copy of the chart which you can mark up. This is also a smart tip for any beginners to chart reading; make a few copies so you can mark them up if it helps you learn.
Textual Pattern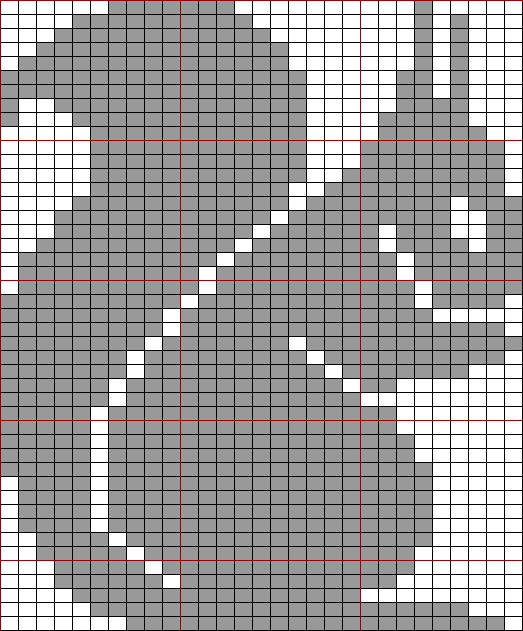 Featured on Knitting on the Net
Color Chart


Featured on Dropped a Stitch
Lace Chart with Legend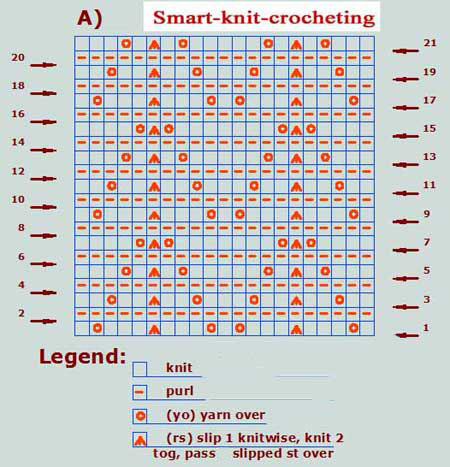 Featured on Knitting and Crocheting Smart
This medium is one of my favorites due to its versatility. You can use it on anything for anything. You name it someone has probably made it with Mod Podge. I have used is on several projects such as my Fabric Art Plates for our 2011 Dorm Days Series. Some cheap plastic magazine racks were made fabulous with Moda Fabric and Mod Podge. Our own Super Don used it to make a fabric topped table. My latest Mod Podge adventure is a present my oldest daughter received from my dad. He made her a wooden doll house from scratch complete with 3 floors, a fire place, swinging doors and stained wood floors. It is incredible. But the best part (to me) was that he left it undecorated. I could select the paint colors and add little touches like curtains as I saw fit. I jumped at the chance and as I was pulling out my favorite magazines for paint inspiration I saw a book of scrap booking paper I had purchased for my daughter's baby album. The light bulb went off. I would wall paper the doll house using scrap book paper and Mod Podge.
To start I knew I would not have enough of each print to fully wall paper each room. T compensate I decided to just do feature walls with the wall paper and paint the remainder. Please take the size of your rooms into account should you purchase a book of paper as opposed to single sheets or you can cover your walls in fabric (see special instructions below). Carefully measure your walls with a small ruler making sure to take width measurement at the top and the bottom of the wall in case the wall is not square. Or if you don't have a ruler that can fit, take a piece of paper and press it against the wall and add creases where ever you will need to cut, at corners, windows or doorways. Then transfer those marks to your wall paper. Once your paper is cut to size, add a generous amount of Mod Podge Matte to your walls and then careful line up and press on your paper. Add another coat of Mod Podge on top of your paper and allow to dry. I used my scraps from cutting out windows (for which I used a craft knife) as rugs on my floors. I have not yet decided which rugs will go where but once I do I will be using Mod Podge Gloss to glue them down and add a nice sheen to the wood floors. I am toying with the idea of layering rugs to create borders and weaving paper strips in the bathroom to mimic tile.
To wall paper for fabric or to work with fabric without all the stretching or distorting that can happen with wet fabric, I recommend applying Mod Podge to the fabric first and allowing it to dry on our Pressing Sheet or parchment paper. Once dry it will peel right off. This will make it stiff and easier to apply to certain projects like my walls or the magazine racks.
Check out our selection of Mod Podge in our Craft section and for more project ideas check out my Mod Podge Pinterest Board.